Cranberry Cove
Thank you for a AMAZING 2023 season! We appreciate everyone making it such an enjoyable place to be in Hanson!
Thank you to all of the lifeguards and our Beach Director Margaret Hickey.
The beach is closed to the public as of September 4, 2023.
2023 BEACH RULES AND REGULATIONS
No Smoking
No Running on Docks
No Grilling on the Beach
No Grilling in the Parking Lot
No Pets
No Fishing off the Docks
No Alcoholic Beverages
No Beach Balls/Floating Devices
**Children must be supervised by an Adult at all times**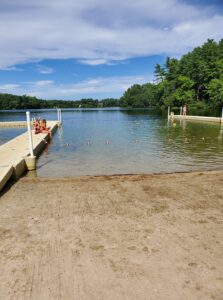 Families in Hanson have been spending their summers at the Cove since the 1940s! Cranberry Cove offers a cool retreat for those hot summer days.